Hi all!  I love diving into cozier clothes even though I am crazy in love the with weather here. We still continue to go to 'a' beach once a week, spending the day doing nothing but breathing in the salty air and collecting shells.  Last week, we hitched a ferry ride to Shackleford Banks and carried out 34 beautifully intact whelk shells. Walking over two miles of shore, over and back with I-don't-know-how-many pounds of shells. My motto: "No shell left behind" and have gotten some of my original specimens in junk shops. I can't not take them – a junk shop is no place for nature's perfection, right?
Published – Art Journaling Magazine (Stampington Press)
So, I was just published in the October 2019 issue of Art Journaling – my first appearance in this magazine publication. I have to say that Stampington Press' magazines have been the wind beneath my wings for years. The artists (I feel like I know them personally and some I do!) generously sharing – like y'all do on your blogs – their techniques, tips, and graciousness. My article in this mag is about one of the six journals I worked on after Hurricane Florence devastated our sweet little city in 2019. This journal was called "Gray Area" and the cover was made from salvaged vinyl wallpaper! I love upcycling things and trust me, there was plenty of opportunity curbside as insurance companies forced homeowners of flooded homes to throw everything out. I couldn't troll the streets like many, searching to profit on others' misfortune but friends who suffered did pass along some things they thought I could use to memorialize their losses. And during hurricane season, it's all about waiting. Waiting for the hurricane to decide where it will 'hit', waiting for it to pass, waiting for assistance, waiting to clean up…waiting, waiting, waiting. We were without power for 6 days – neighbors had theirs restored in 24 hours (yaayyy to our power crews) but somehow six of us were dealing with something more complicated and therefore watched as our freezers melted, ruining lots of food! What else could I do but ART! I had running water, we had daylight hours and I had a lifetime of unused art supplies….so art journaling was a productive way to 'wait' for help.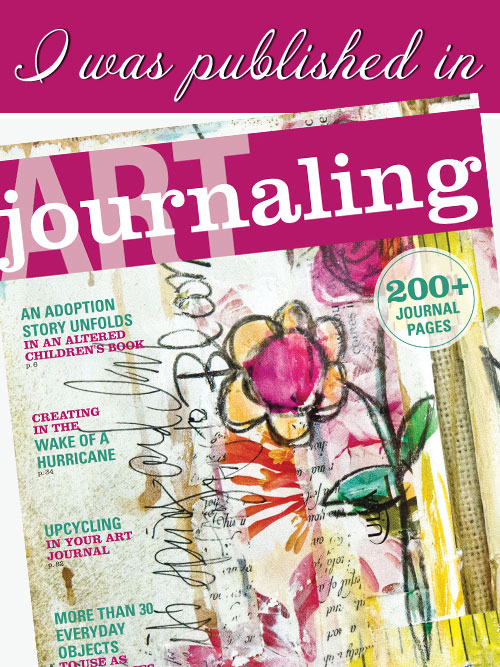 At this certain age….I appreciate every sunrise, every kindness, every person who bucks the tide of rudeness in this time of "say anything, bully talking" on the internet so when I meet someone who goes the extra mile of sweetness, well I have to share them with you. The Editor of Art Journaling, Amber Demien, went above and beyond her busy schedule to convey EXTRA kindness to me during the submission process. I could tell she was present in our conversations and I could also tell she spent this time and effort with everyone published. What a lovely experience! Makes me want to work extra hard to submit something that would bring me back into her presence. It all matters.
What inspires you?
What inspires you to create? Meeting people through art, oftentimes someone will look at my work and ask 'where did this concept come from'? Or I like this one most often from my sister, "How on earth do you come up with this stuff?" Most times I have an impressive sometimes-made-up answer but oftentimes, I just say…my mind and my hands just got together and had a little par-tay!
Last but not least…drumming!  Michael and I are co-hosting a drum circle in our lovely waterfront park the first Sunday of each month June – October. So many people walking dogs, visiting for the first time or enjoying the peaceful waterfront ask, "Where can we buy a drum?" Anywhere. Thank goodness for the internet. Such a lovely time to be alive, right? We play djembe drums and they were made in Asheville by Skinny Beats' owner Billy Zanski. I find drumming meditative and a good balance for my manic creative side.
Maybe this posting sounds like a mish-mash of subjects – let's admit it, IT IS!!! – but I'm catching up from my lazy posting schedule. Love and creative vibes to you all! Until next time….