It's been a while but I'll spare you the (un)pleasantries because I suspect we are now officially all in the same boat. Pandemic, COVID-19, shortages, racial issues…some days, all I can cross off my to-do list is to "breathe". Two camps though – one camp wants to 'go back' to the way things were and the other camp says….HOLD ON, THIS SH*T IS ABOUT TO GET REAL FAST…. I'm in the latter camp actually. I hope we NEVER go back to the way things were. My thought (please don't judge me harshly) is that we are getting off easy with the current list of challenges and it could have been much, much worse had we not had something yank us up by our tails (aka pandemic).
Spending time at home
It's been a blessing for us and we are extremely grateful we don't wake up worrying about how we will pay our mortgage, whether we will have health insurance and all the horrible-ness many people have been plunged into. We are grateful…but we are wise enough to know that what is happening is happening to us all…no one is going to walk away unscathed. It's allowed humility and compassion to surface and so that's been my art theme for a while. Time spent in my studio is blessed relief.
Coming this August – Somerset Studio's Summer 2020 Issue!
I have a 'home' themed article you might enjoy. This was an enormous project where I cut templates out of foam board, of all the places I've called home, then collaged/mixed media'd each with loads of symbols to represent where I was at that time of my life. This was probably one of the proudest pieces (next to a collaboration with paper artist and new friend, Bobbie Wilson in Tucson of mandalas during the pandemic. Very satisfying and transformative work! Stay tuned!
A new space!
Aside from weekly trips (masks and gloves!) to the grocery store and a big box home improvement center, we have been sheltering in place since early March. No complaints. Like many, our home project list is getting shorter and shorter with a focus on home comforts and sustainability. Outdoor shower (how did I ever live without it!) and a brand new renovated art space!!!!  I'll send you pics when I get the new cabs painted. I wanted the visual clutter gone – not easy when you love assemblage and collage work, right? New floor, fresh paint, new cabinets, countertops, sink (finally a deep enough sink to rinse my splattery brushes without splashing my face) and faucet (finally, one that swivels so I can clean my sink! Don't laugh….I change my rinse water after every color!) AND commercial grade walk-off mats leading from my husband's workshop to the house (Lord have mercy, I had enough sawdust on my lab floor to rival an Amazonian termite mound.
Published: Current Issue of Art Journaling!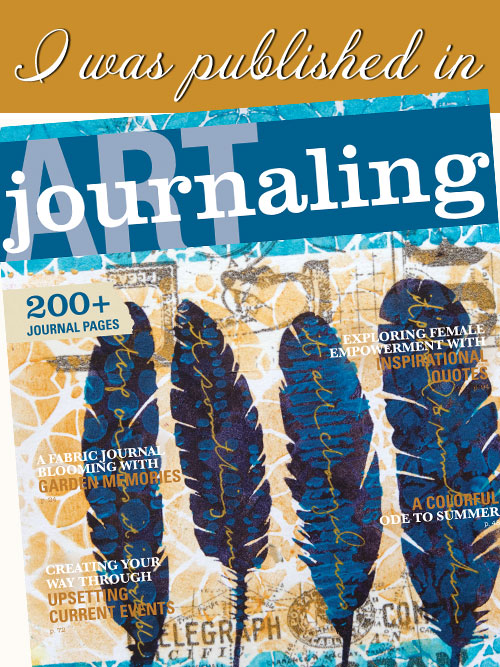 I have to say, this is THE best source of inspiration – Art Journaling Magazine. I've been a subscriber for years and have been humbly inspired by many artists, I wish I had more space here to thank them. This was a challenging project of mine – following very detailed written instructions on how to make a complicated (6 pages of directions!) journal and then…fill it.  It lingered on my shelf for years and finally I just let go of perfection and finished it, sent it to Stampington Press and now it's out there for you to see.  Amber Damien and her incredibly talented team have once again put together a magazine like no other. Even if you aren't a 'journaler' I would still highly recommend this publication for the layout, quality and variety of work that will leave you jazzed to try a new technique, or two, or three or four. You can order the magazine (don't even have to wear a mask to have this lovely mag in your collection!) online. A friend of mine even buys the quarterly to write poetry for some of the works within. Is that creative or what? While finishing this journal, I took an online class from Heather Murray (check her out!) so incorporated plenty of her technique here. Here's the link to check out Art Journaling mag and others by Stampington Press:  https://stampington.com/Art-Journaling-Summer-2020/ 
NOTE: the email address printed as my contact info at the tail end of the article is incorrect. It's Carol@CarolMore.com (they accidentally added my middle initial which is how I present my signature…can you believe there is ANOTHER Carol More out there?!).
So, whatcha all been doing these days? Wishing you good health, courage and inspiration always. Love and hugs.